Revolution Ethics Project is a place to talk about ethics, values, being your best self, living a good life, and what we owe our neighbors. We practice radical hospitality--as long as everyone is safe, everyone is welcome. 
A typical discussion might start with a philosopher like Simone Weil, St. Augustine, Howard Thurman, or Martin Buber. We might ponder a question like "are there moral absolutes?" Or we could examine the life of a contemplative and see how it can change the way we might live our lives. We might critique Marxism, Anarchism, and Neoliberalism.
Most important, Rev is a place to be together as we try to bring about a revolution of the heart. There is space for you.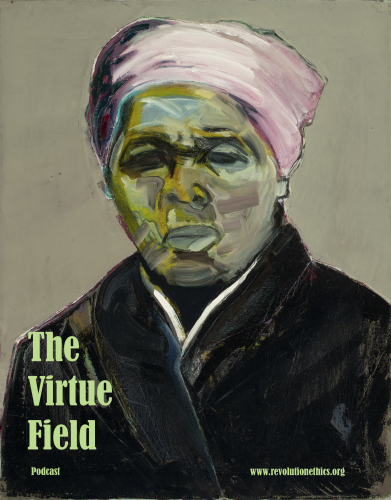 The Virtue Field is a podcast about ethics. It starts with the premise that ethics can only be understood in the context of someone's life. Each season we follow the story of a "moral hero" in order to rescue ethics from pure academia and put into a context.
The first season of the Virtue Field is title "American Moses." It follows the story of the great Harriet Tubman, revealing a life that was fully dedicated to justice, to other people, and to holiness.
The Virtue Field is available wherever you get your podcasts. Here are some links:
The Virtue Field on Apple Podcast: https://podcasts.apple.com/us/podcast/the-virtue-field/id1632060278
The Virtue Field on Spotify: https://open.spotify.com/show/0pbsSwf8mMBqQDuvLSF5KQ?si=6303708188834c87
The Virtue Field on Buzzsprout: https://www.buzzsprout.com/2005872/podcast/embed
Or listen from right here!
Episode 1 Harriet Tubman EP 1 MASTERED.mp3
Episode 2 Harriet Tubman EP 2 MASTERED.mp3
Episode 3 Harriet Tubman EP 3 MASTERED.mp3
Episode4 Harriet Tubman EP 4 MASTERED.mp3
Episode 5 Harriet Tubman EP 5 MASTERED.mp3
Episode 6 Harriet Tubman EP 6 MASTERED.mp3
Episode 7 Harriet Tubman EP 7 MASTERED.mp3